Julius Popp es una artista alemán, que utiliza la interfaz informática y el código binario para crear instalaciones con las que explora nuevas formulas de comunicación. Utilizando la tecnología como un medio para separar y objetivar los procesos naturales, sociales, culturales y cognitivos del individuo en sus relaciones sociales. En la instalación bit.fall mediante la oscilación de la marea del rió Tamesis en Londres 2.010, creaba tipografías en cascada de palabras aleatorias provenientes de noticias que emitía Internet en ese instante. Una serie de válvulas se abren para dejar caer las gotas de agua para formar letras y palabras. La tecnología y su relación con los elementos naturales. El resultado final es una experiencia visual bella y espectacular.
En

BIT.CODE
juega con la re-codificación de la información y el conocimiento de los signos. Funciona con las infinitas posibilidades de combinación de un número finito de bits, las unidades más pequeñas de información. Los bits aparecen como elementos en blanco y negro en los distintos segmentos de la cadena. Cada cadena se codifica con el mismo patrón de bits, que es una reminiscencia del código Morse. Si las cadenas se mueven en paralelo, es decir, aparentemente aparecen (por un período de tiempo determinado) de 'la nada' y vuelven a desaparecer. La información legible por un instante, un momento de serenidad, de claridad - antes de que el flujo incesante de las constelaciones, los movimientos y los cambios comiencen de nuevo.
La navegación a través del mundo moderno ya no es lineal, el hilo no puede servir de modelo para su descripción. En decenas de piezas pequeñas de la meta-metafórico "hilo rojo", constituyen un enjambre caótico de las partículas o los bits, los más pequeños elementos de información. En un momento momento determinado, se recombinan adquiriendo un sentido comprensible. Las señales producidas por el Bit.Flow se mueven a través del tubo en un orden determinado de principio a fin. Pero sólo podemos reconocer y percibir este grueso de la información en determinados momentos, desde ciertas perspectivas, como las cartas - una compleja interacción: orden en el caos - el caos en orden.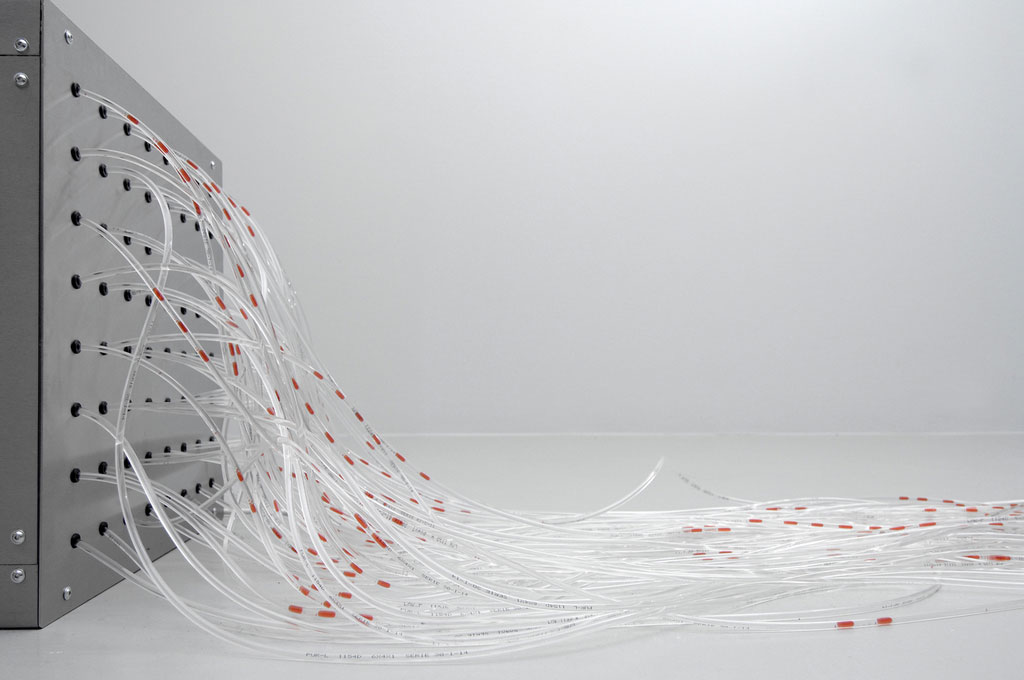 You have read this article arquitectura / art / arte / installation performance / tecnología with the title Julius Popp - Procesos comprensivos de información. You can bookmark this page URL http://arisumisa.blogspot.com/2012/01/julius-popp-procesos-comprensivos-de.html. Thanks!