Aberdeen en Escocia es conocida como la ciudad de granito, presentando un paisaje urbano de provincias, poblado por edificios de mediana altura construida con piedra granítica, que le da el característico tono gris. Hace un año un Aberdeen Garden City Trust y el Consejo de la Ciudad, convocaron un concurso urbanístico con el propósito de reformar el parque ya existente en el centro histórico. Tras las deliberaciones el proyecto seleccionado ha sido el presentado por el estudio Diller Scofidio + Renfro y la firma de diseño Keppie.
Esta propuesta conjunta consiste en una intervención híbrida, en la que las áreas verdes se alternan con espacios destinados a la programación de actividades culturales, en la que el auditorio semicubierto se proyecto desde el centro hacia los laterales que delimitan el perímetro de la parcela. Extendiendose sobre una carretera y la linea de ferrocarril vertebrando la ciudad
La variada topografía debe crear una variedad de experiencias en el pequeño parque. Creando una pérgola en tres dimensiones desdes la matriz, cubriendo parcialmente el auditorio que contara con un aforo para 5.000, el anfiteatro se completara con una pasarela espectacular que atravesará el parque de este a oeste, una sala de 215.000 metros cuadrados de exposición, y un teatro interior para 500 personas.
Las vías también se conectan a las calles existentes y los puntos de mayor interés de la zona, incluyendo la estación de tren de cercanías y las instituciones culturales, proporcionando un espacio funcional adicional al jardín, además de un centro de arte, dinamizando las calles históricas de la ciudad, dejando al descubierto los arcos, bóvedas y el puente sobre la calle principal y las balaustradas y estatuas que forman parte del legado de Aberdeen.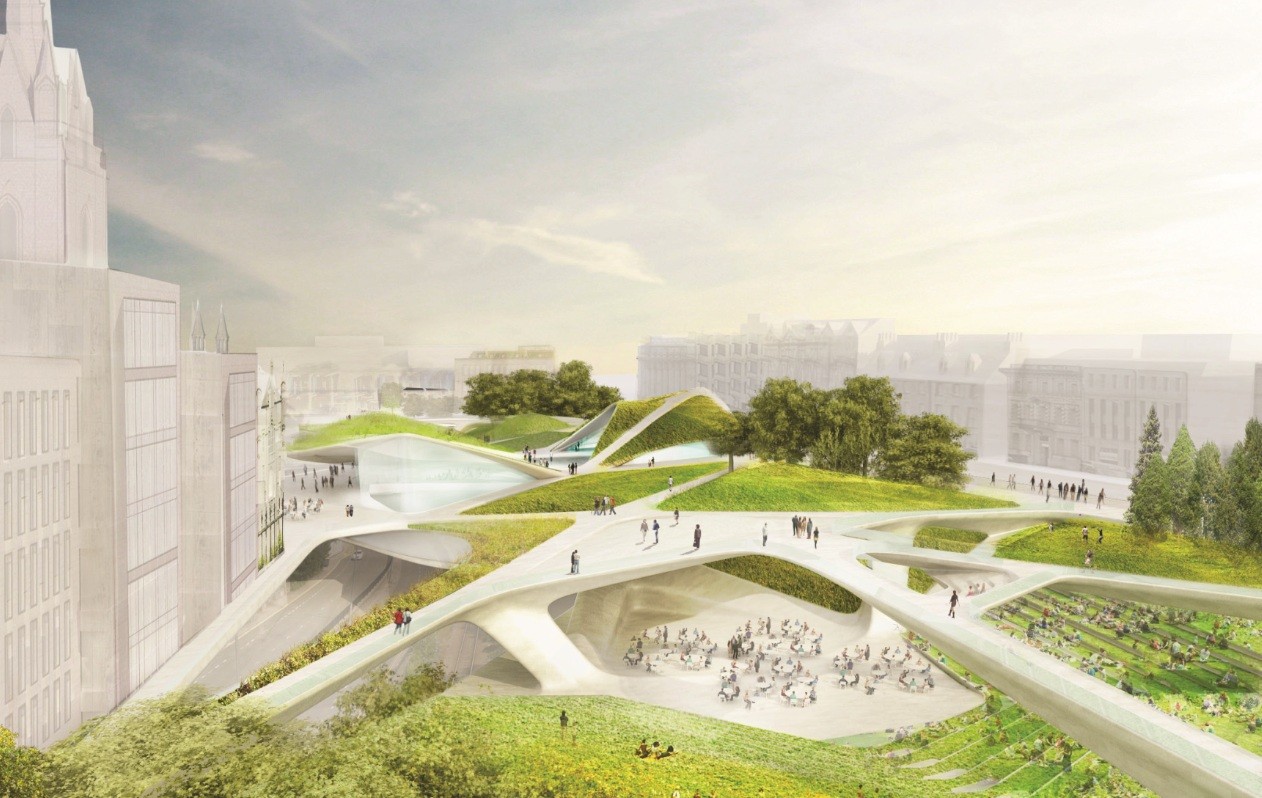 You have read this article arquitectura / sostenible / urbanismo with the title Diller Scofidio + Renfro - Aberdeen city garden. You can bookmark this page URL http://arisumisa.blogspot.com/2012/01/diller-scofidio-renfro-aberdeen-city.html. Thanks!