Jean Nouvel es el arquitecto del París contemporáneo, junto con Claude Perrault. Se pueden encontrar diseminadas por la ciudad de luz decenas de intervenciones arquitectónicas que han conformado una filosofía personal de construir ciudad, exportado a otras urbes de similares características. En ocasiones monumental en otras mas comedido y formal, es el arquitecto que desde lo local ha sabido hacer una lectura de lo que representa simbolicamente, socialmente y culturamente París a la arquitectura.
Su ultimo proyecto en vías de realización supone una vuelta a la concepción en su ideario arquitectonico. El proyecto de urbanización del distrito de Seguin Island cuya localización lo sitúa en el Oeste de París, supone el plan de reordenación urbana mas relevante llevado a cabo en el transcurso de las dos ultimas décadas. Comprende la remodelación integral de una franja de tierra en mitad del cauce del rió Senna, y que hasta el año 2.005 sus terrenos acogieron las instalaciones del fabricante de vehículos Renault, iniciándose su actividad a principios del XX.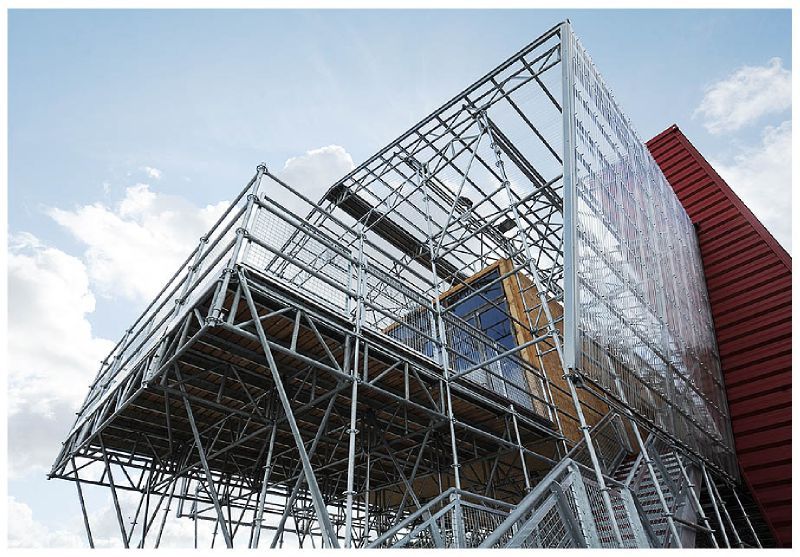 La primera instalación inaugurada recientemente y que representa el prologo de una serie de actuaciones que transformaran la isla en un centro de ocio y esparcimiento dirigido a dinamizar unas de las zonas mas reprimidas de la ciudad que incluye incluye una mezcla de la cultura, el comercio y los espacios verdes, con salas de música, estudios de artistas, museos, e incluso hoteles y cines. La primera fase de esta revisión sensacional fue terminado recientemente, Les Grandes Tables se compone un invernadero gigante y restaurante.
Les Grandes Tables de l'île es una gran estructura de madera envuelta en una estructura de cristal. El esqueleto andamio suspendido se envuelve alrededor de

contenedores

reciclados de de carga transporte marítimo, dándole un aspecto industrial y minimalista. Situado en el centro de un jardín de temporada, el restaurante de 1.000 pies cuadrados también incluye un invernadero agrícola que produce una combinación de verduras frescas y plantas exóticas
You have read this article arquitectura / contenedores / paris / sostenible / urbanismo with the title Jean Nouvel - Les Grandes Tables de l'île. You can bookmark this page URL http://arisumisa.blogspot.com/2011/12/jean-nouvel-les-grandes-tables-de-l.html. Thanks!