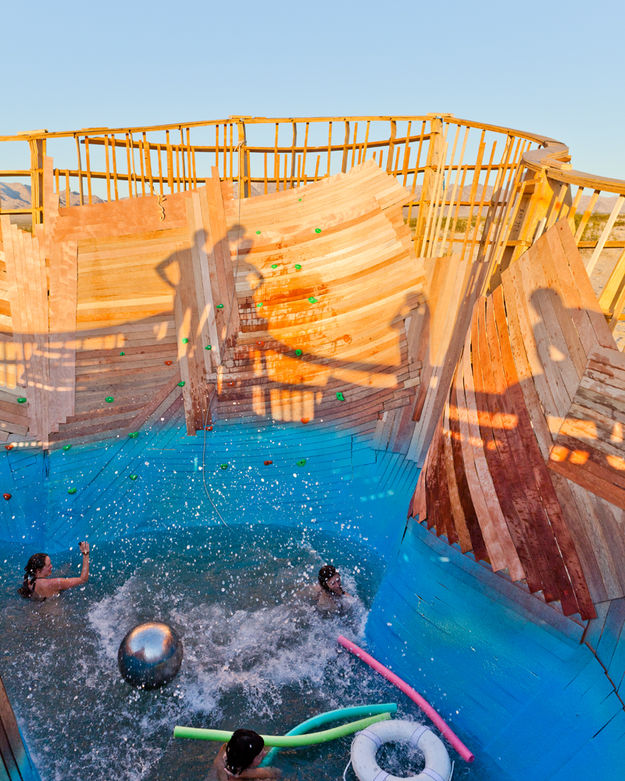 Partiendo de las características del paisaje donde se va a instalar, en este caso un paraje desértico ubicado dentro del parque nacional de Joshua Tree en California, Ball-Nogues Studios ha instalado este verano una estructura que inspirándose en el cráter de un volcán, pretendía convertirse en un equipamiento recreativo que teniendo en cuenta las características medio ambientales especificas de un clima árido, donde las tormentas de arena son frecuentes, además debido al patrón de altas temperaturas que presenta, el grado de evaporación es muy elevado.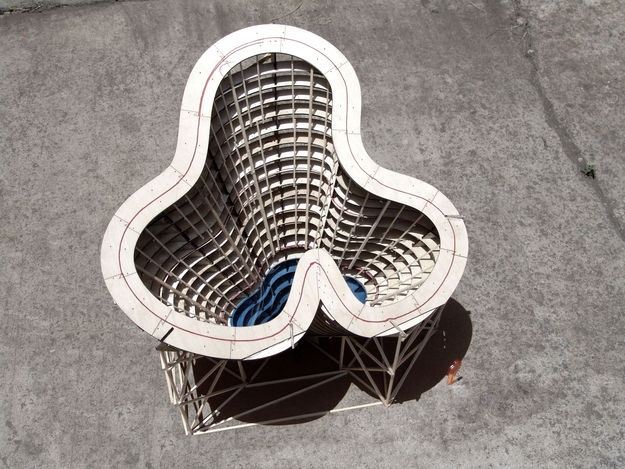 Teniendo en cuenta esas dos variantes, el proyecto para dotar de una instalacion que pudiera albergar una piscina que resistiera los rigores del clima desértico, tenia que tener un referente en el entorno donde iba a prestar servicio a la comunidad. Inspirando en el movimiento paisajista
Land-Art.
La obra se asemeja a una cuenca que está a 30 pies de profundidad, desde el borde hasta el punto intermedio además con otros 10 pies de profundidad hasta tocar el punto mas bajo. La escala en el interior permite a los visitantes bajar a lo mas profundo donde el agua es salada.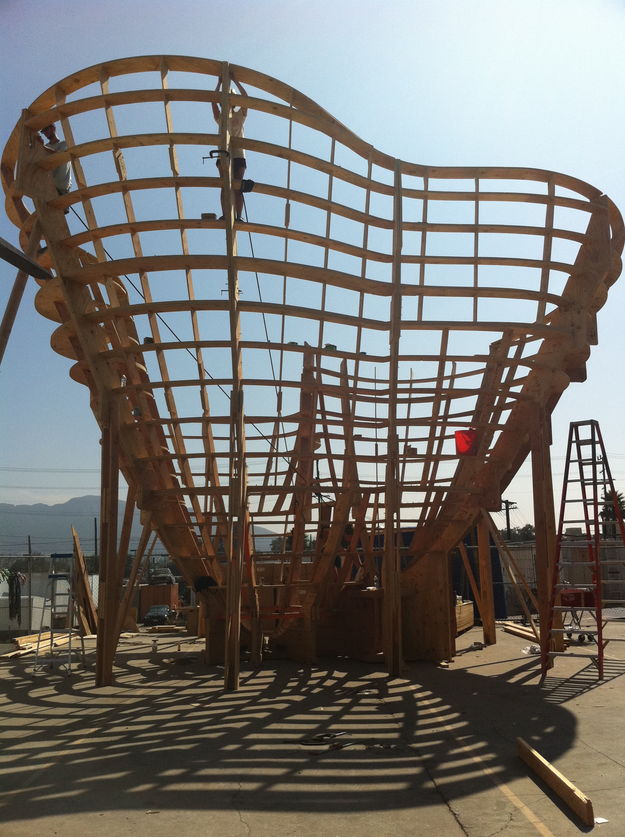 La estructura fabricada en madera en bruto, fue originalmente el encofrado para la construcción de otra obra de Ball-Nogues, Talus Dome, en el cual más de 900 esferas de metal pulido que se reunieron para aparecer como un montón de grava monumental. Los dos proyectos fueron diseñados de tal manera que el método de producción utilizado en la primera (Talus Dome) se ha convertido en el ejemplo para Yucca cráter. Este enfoque integra el concepto, la estética, las relaciones sociales y de producción, que invitan a reconsiderar su relación con el arte, mientras que el reposicionamiento dentro de un dominio alternativo económico y geográfics.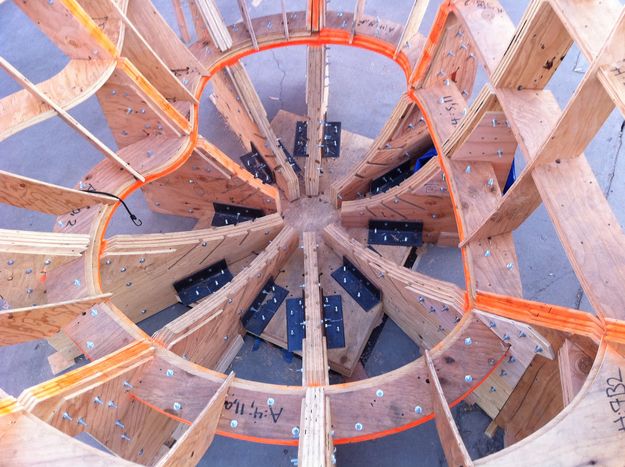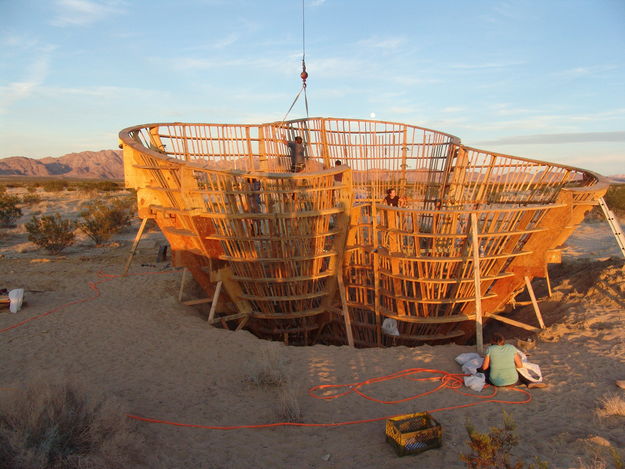 La madera es apilada y cortada en secciones, con ranuras en las costillas para crear un plato. Tiras de madera contrachapada forman parte de la piel del interior, como un casco del buque a la inversa. Abierto el 15 y el 16 de Octubre 2011. Una escalera permite a los visitantes a pasar por encima de la parte exterior, mientras que la escalada en roca, las pisadas se fijan a las paredes interiores. La obra fue un parque infantil para unos pocos afortunados que pasaron la tarde jugando en el oasis temporal. La pieza está abandonada a la intemperie.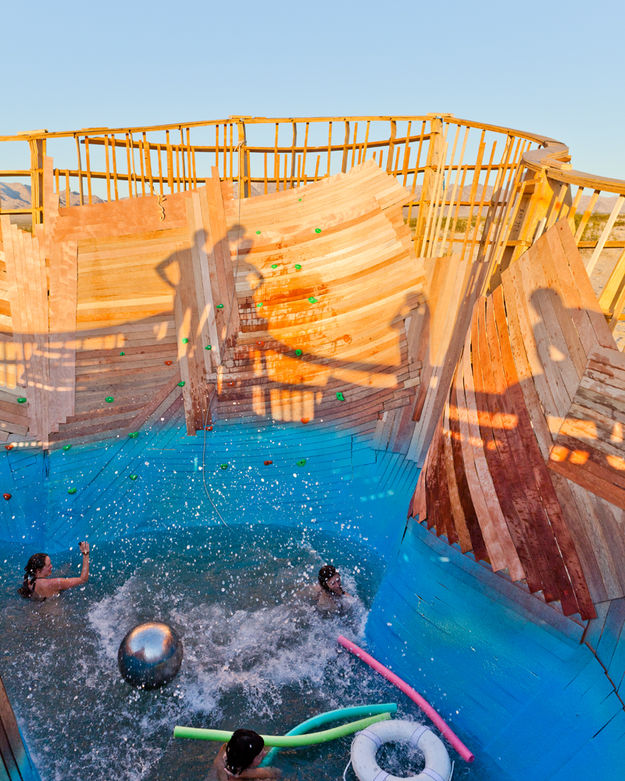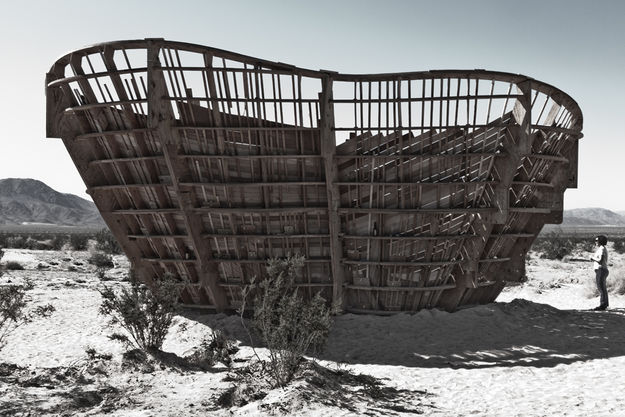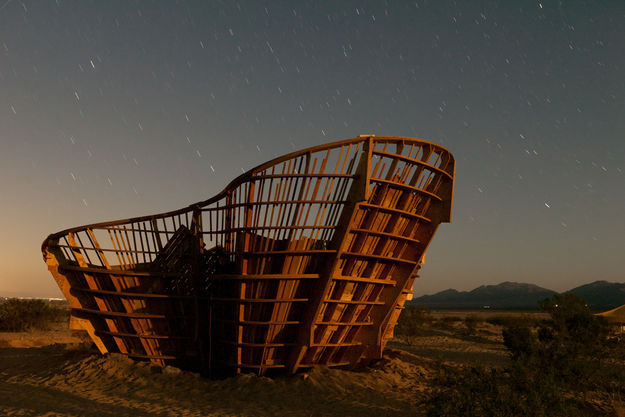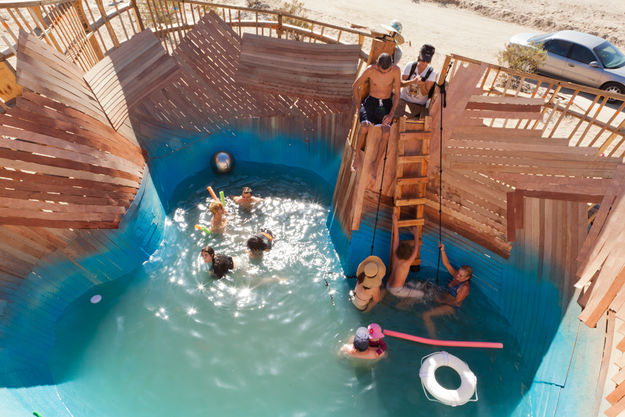 You have read this article agua / arquitectura / art / arte / diseño / installation performance with the title Ball-Nogues Studios Yucca Crater. You can bookmark this page URL http://arisumisa.blogspot.com/2011/12/ball-nogues-studios-yucca-crater.html. Thanks!