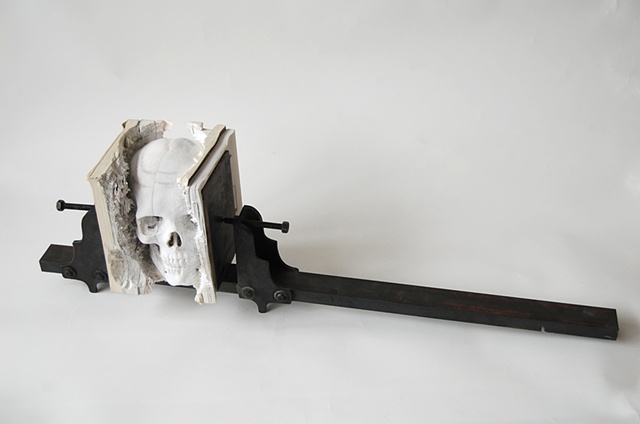 Maskull Lasserre

da un peculiar significado a los términos

vida y muerte, en este caso emplea manuales informáticos viejos, y el molde en escayola de un cráneo humano para Lasserre explorar el potencial inesperado de lo cotidiano a través de alegorías de valor, esperanza, y su utilidad social. La aparición de la figura del cráneo de entre los libros es, sin duda inesperado, sin embargo, parece oportuno, al mismo tiempo. Se presta gran atención al detalle, con las proporciones exactas y la reproducción de todas las funciones.

Si se se tiene en cuenta el proceso de elaboración, casi es como si estuviera descubriendo el cráneo oculto dentro del bloque de libros en lugar de crearla.

Maskull Lasserre nació 1978 en Calgary, Alberta. Pasó su infancia en Sudáfrica y regresó a Canadá para establecerse en el área de Ottawa. Estudió artes visuales y la filosofía en el Monte Allision Universidad (Sackville, NB), escultura en la Universidad Concordia (Montreal, QC). Actualmente vive y trabaja enMontreal, QC. Aunque el cráneo se asocia comúnmente con la muerte, la pieza en sí no es horrible.
You have read this article art / arte / installation performance with the title Maskull Lassarre - Incarnate (Three Degrees of Certainty II). You can bookmark this page URL http://arisumisa.blogspot.com/2012/03/maskull-lassarre-incarnate-three.html. Thanks!