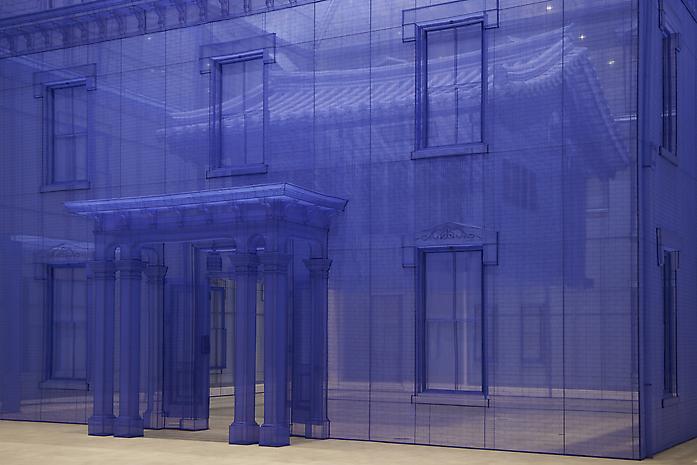 Azul casi transparente la ultima instalación del artista Do Ho Suh, traza un viaje sentimental que utilizando la arquitecturas navega entre sus dos residencias. La primera situada en su lugar origen en el distrito de Seongbuk-dong, Seúl, permanece oculta en el interior de la reprodución de su actual residencia en

Rhode Island

en los Estados Unidos.
Realizadas a escala real 1:1, la instalación que lleva por titulo

Home Within Home Within Home Within Home Within Home se representa en el espacio como una hológrafia que formara de un pasaje onírico extraído uno de sus sueño. Flotando las casas exploran experiencias etéreas a través de la memoria.
Realizadas en seda las dos estructuras que forman parte de Home Within Home, son herederas de otras obras similares del autor. Creada para personificar la propiedad espacial vital donde el autor ha vivido, sin duda caracteriza por su abundante luz natural que entra a través de sus paredes de cristal y el atributo tradicional de la arquitectura coreana, en el que los edificios tradicionales, modernos y contemporáneos se vinculan en el espacio tiempo formando un todo que se refleja en su autor.
Realizada para su ultima exposición en el Museo de Arte Contemporaneo de Seoul. La escultura de efecto masivo muestra una estructura ligera, se extiende a nuestro alrededor pudiéndola recorrer sin temer que se derrumbe sus paredes a la vez que nos sentimos protegidos en su interior, donde el filtro del tejido modifica el color creando un contraste con el exterior.
You have read this article arquitectura / holografia / instalacion / seda / transparente with the title Do Ho Suh - Home Within Home Within Home Within Home Within Home. You can bookmark this page URL http://arisumisa.blogspot.com/2013/11/do-ho-suh-home-within-home-within-home.html. Thanks!