Los mundos creados a partir de los residuos de la superficie, permanece suspendidos sin aparente presencia de vida. Su autor la artista

Sashie Masakatsu

, nos introduce en un escenario alegórico, colapsado por la basura que ha generado la humanidad. Las esferas se mantienen a una altura prudencial siendo testigos de la desolación causada por la actividad del ser humano. Masakatsu Sashie es una pintora japonesa natural de Kanazawa. Se dio a conocer artísticamente con motivo de la Feria de Arte GEISAI en Tokio en 2005.
En su trabajo, la forma simbólica de un mundo, es un contenedor, o de un territorio es la esfera de la tierra, que está formado por los dibujos de los edificios. La teoría ha sido de gran influencia para la elaboración de mundos limitados, cerrado, sin fisuras. Se trata de un espacio limitado dentro del cual el círculo de la vida existe. La figura humana en una obra de arte de determina automáticamente el tiempo, el espacio, y el mundo. Lo que es peor, puede determinar la forma en que los espectadores ven el trabajo. Por eso pinta escenarios despoblado. Su objetivo es hacer que el espectador imagine los seres humanos rodeado por objetos artificiales.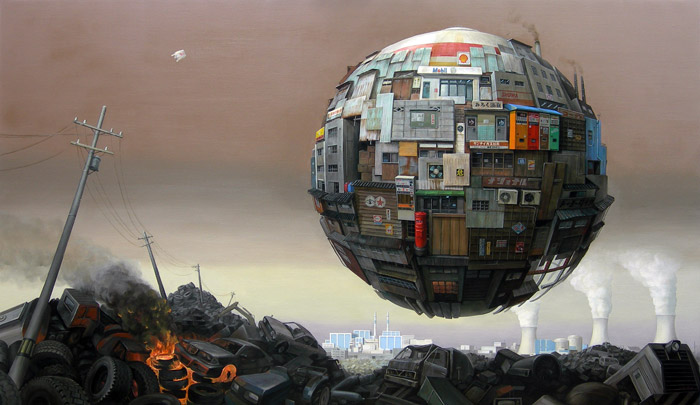 You have read this article arquitectura / art / contenedores with the title Sashie Masakatsu/The Floating Urban Planets. You can bookmark this page URL http://arisumisa.blogspot.com/2011/09/sashie-masakatsuthe-floating-urban.html. Thanks!