En la instalación Landscape Abbreviated se plantea como un recorrido diseñado siguiendo la directriz de un laberinto, al que su creador el artista
Nova Giant
añada el movimiento como elemento que la articula suponiendo un obstáculo que visitante a la hora de completarlo.
La naturaleza adopta de esta forma el papel que suele que suele corresponder al ser humano su desproporcionado afán por acaparar los recursos naturales, que la madre tierra le proporciona para su supervivencia. En este caso los elementos móviles aparte de convertirse en un factor lúdico, simboliza la respuesta instintiva de autodefensa que la naturaleza posee.
Exhibida dentro del ciclo de expósitos titulado
Wave Hill Sunroom Project Space celebrado en el centro cultural Wave Hill de New York. Las diferentes piezas que componen
Landscape Abbreviated presentan un patrón de movimiento autónomo articulado por un sistema cinético que detecta, mediante sensores de movimiento la presencia de humanos dificultando su paso.
La dualidad natural-artificial explora ambos contextos a partir del que desarrollar un argumento donde establecer el status quo. Las jardineras situadas en los extremos de los brazos móviles, están plantadas con musgo recogido de entre las grietas de las paredes que apenas reunen las condiciones para subsistir.
Landscape Abbreviated
from
Nova Jiang
on
Vimeo
.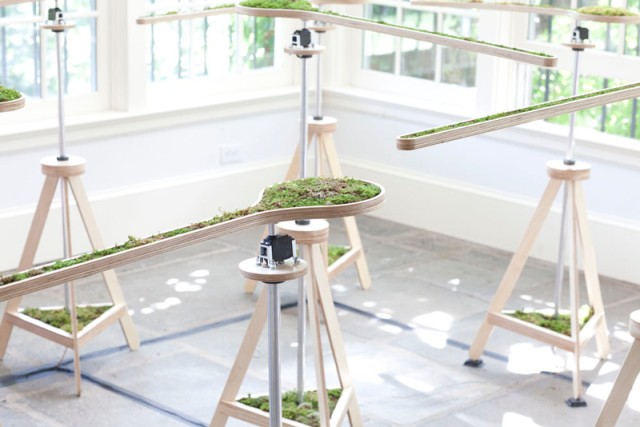 You have read this article art / arte / cinetico / conceptual / exposicion / instalacion / installation performance / interactivo / laberinto / musgo / new york / paisaje / sensor / vegetación with the title Nova Giant - Landscape Abbreviated . You can bookmark this page URL http://arisumisa.blogspot.com/2013/09/nova-giant-landscape-abbreviated.html. Thanks!