My Strange Grandfather
from
Dina Velikovskaya
on
Vimeo
.
Premio del Público en la ultima edición del festival de animación de Montreal, el ultimo trabajo de Dina Velikovskaya estudiante Universidad Estatal de Cinematografía Rusa, presenta un cambio de registro tanto en lo técnico como en lo narrativo respecto a trabajos precedentes, incluso se aprecia una ambientación diferente.
Aunque en
My Strange Grandfather la protagonista sigue siendo el mundo de la infancia, la historia describe la relación de una nieta y su abuelo un inventor excentrico, la atmósfera que preside el corto aunque conserva el lirismo que se observa en trabajos precedentes como Pages of fear, The road to bethlehem o su debut hace tres años The Bridge es diferente.
Al contrario que estos que transcurrían entre atmósferas opresivas donde el crudo invierno con sus tonos oscuros se convierte en parte importante de su discurso. En
My Strange Grandfather la composición escénica se ambienta en un entorno mas amable, transcurriendo en época estival en una playa donde salvo algún vendaval, el cielo es azul luce el sol es omnipresente a lo largo del día y la escala monocromatica de otros trabajos es sustituida por una paleta de colores que favorecen una iluminación radiante.
Realizada en stop motion Dina recupera las marionetas como objeto central de la animación, aparcando el experimento que supuso Pages of fear, donde las marionetas se alternaban con material gráfico e ilustraciones.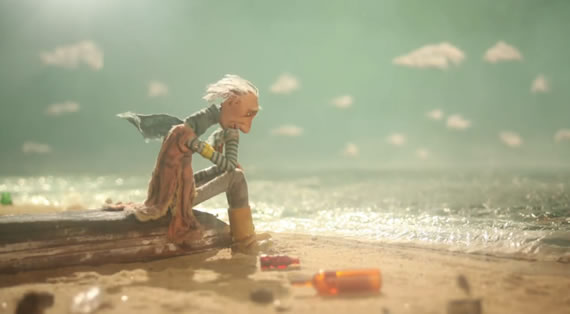 You have read this article animación / marionetas / stop motion with the title Dina Velikovskaya - My Strange Grandfather. You can bookmark this page URL http://arisumisa.blogspot.com/2013/02/dina-velikovskaya-my-strange-grandfather.html. Thanks!