En la lejanía guarda cierto parentesco con el monumento megalítico de Stonehenge, en este caso el dolmen en vez de estar construido con piedras de arenisca, el arquitecto y artista Alexander Brodsky listados de madera y puertas recicladas para el exterior y ladrillo para la chimenea del interior.
Pintado integramente en blanco el pabellón ovalado tiene dos versiones, la titulada Rotunda
realizada para la edición de 2.009 del
Archstoyanie Festival
(que se celebra anualmente a las afueras de
Moscu
) y una segunda versión a escala reducida instalada en el
Museo de Arte contemporáneo
de la localidad rusa de
Permm
.
Alexander Brodsky crea metáforas impresionantes de la realidad contemporánea que siempre tienen el aire de lo eterno y de la melancolía de otro mundo. El lenguaje visual de Brodsky afirma lo sublime, que surge de las cenizas. Muchas de sus obras se realizan desde la destrucción, y en contacto constante con la pérdida, transmitiéndonos la verdad inmutable sobre nosotros mismos.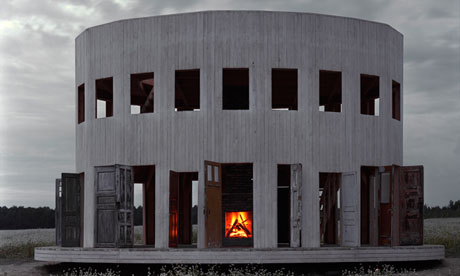 You have read this article arquitectura / art / arte / design / diseño / installation performance / land art / london / reciclaje / surreal / surrealismo / urban art with the title Alexander Brodsky - Rotunda. You can bookmark this page URL http://arisumisa.blogspot.com/2012/11/alexander-brodsky-rotunda.html. Thanks!