Cada paisaje esconde innumerables historias no contadas, los árboles que pueblan los parques de las ciudades son los principales testigos de todas esas historias. La vídeo instalación titulada Emergence humaniza el paisaje urbano proyectando rostros de personas anónimas emergen entre las las ramas para sorpresa de los transeúntes que se encontraba en el Hyde Park en Sidney a lo largo de la ultima semana.
El efecto es inquietante, creada por el artista local Craig Walsh, se trata de una instalación que sucede una serie de obras de arte efímeras que centran su discurso en diferentes localizaciones de la ciudad relevantes para el autor. Esta en concreto tiene su antecedente en una intervención titulada Humannature realizada a lo largo de 2.008 en lugares tan dispares como Japón, Cuba o Reino Unido.

Para producir esta ilusión se proyectan diapositivas manipuladas por ordenador, estos retratos pre-grabados se reflejan en los árboles, creando un efecto similar a las 3-D. El resultado de este proceso son cabezas monumentales que levitan en la oscuridad, y que los usuarios la perciben como un holograma gigante. En el caso de Emergence, el público puede conversar libremente con el árbol en un evento interactivo en tiempo real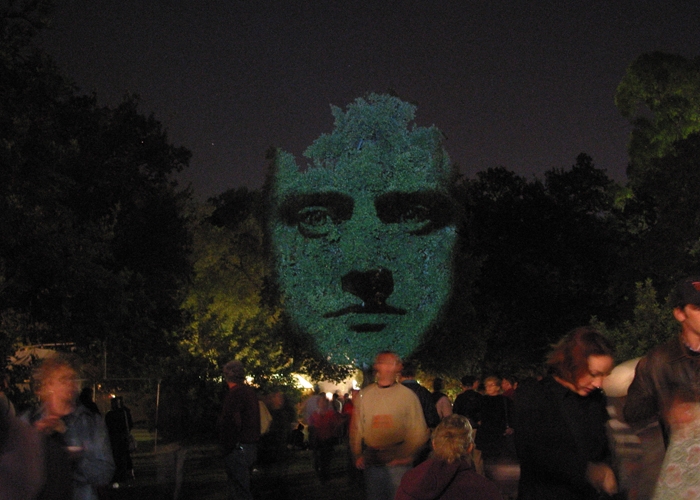 You have read this article arboles singulares / art / arte / arte digital / audiovisual / installation performance / land art / retrato / street art / urban art with the title Craig Walsh - Emergence, arboles humanos. You can bookmark this page URL http://arisumisa.blogspot.com/2012/10/craig-walsh-emergence-arboles-humanos.html. Thanks!