En ocasiones la mejor definición sobre las características reside en la explicación del propio autor. En este caso Kris Kuksi reproduce alegorías barrocas, trasladadas a era postindustrial. Aunque su trabajo es conocido por sus esculturas realizadas con minuciosidad, siendo autenticas obras de ofebreria, en las que cada detalle supone un retazo que define la narración del conjunto escultórico, además también cuenta con obra pictórica y dibujo, continuación y complemento de su extensa obra.
Uno de los datos biograficos que mas se destaca en la blogesfera, de este artista nacido
en 02 de marzo 1973, en Springfield Missouri, es relativo a infancia y adolescencia marcada por el aislamiento y un estado constante de introversión, la cual probablemente le cultivo y saturo de una impresionante imaginación. Es claro su gusto por lo inusual, macabro y hasta grotesco.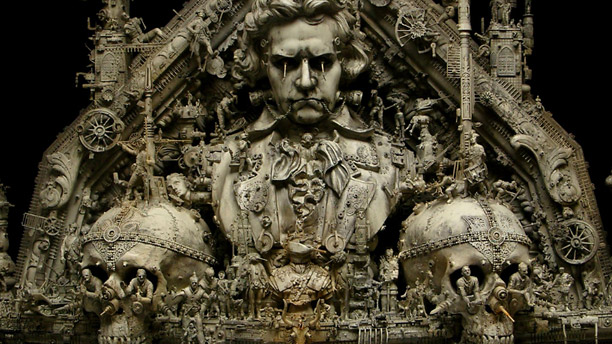 You have read this article art / arte / escultura with the title Kris Kuksi - Barroco apocaliptico. You can bookmark this page URL http://arisumisa.blogspot.com/2012/07/kris-kuksi-barroco-apocaliptico.html. Thanks!